EHL legal settlement improves brush clearing regulations
EHL and the Riverside County Fire Department worked together to forge an improved ordinance governing vegetation clearing for fire safety near structures and roadways. Under the settlement, habitat lands will receive protection from unnecessary disturbance.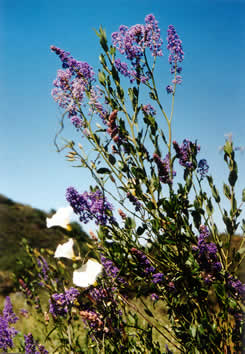 In 2007, the County updated an antiquated ordinance that had required extensive vegetation removal on habitat lands irrespective of the presence of structures. While much improved, the new ordinance had residual problems, and EHL filed a lawsuit under the California Environmental Quality Act in order to address them. Cooperative settlement discussions ensued with an environmentally sensitive Fire Department, led by Chief John Hawkins.
With EHL's help, the Fire Department fine-tuned the ordinance so that vacant properties near structures and along roadways will be cleared to the minimum extent necessary to achieve proper "defensible space" (generally 100 feet around structures and 30 feet around roads used for egress from fires). Through a sophisticated and custom-tailored abatement notice, the exact amount and method of clearing will be specified. For example, thinning will generally be used in habitat areas, so that "type conversion" to flammable weeds does not result. Furthermore, clearing will only be performed upon County authorization.
By working together, EHL and Riverside County crafted procedures that provide state-of-the-art fire safety and while respecting the lands needed to assemble the Multiple Species Habitat Conservation Plan (MSHCP). Staff attorney Michael Fitts represented EHL in the litigation.